Painting below is Pinski's Travelling Dive Troupe at Twincreek Lagoon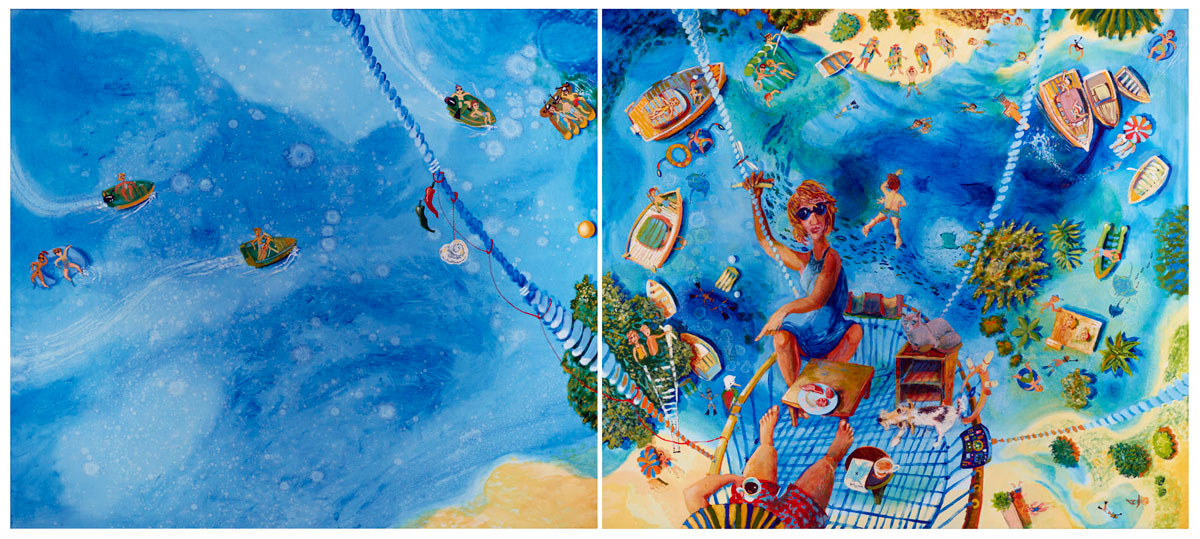 (oil on canvas 1.21 metres x 2.84 metres)
Currently on display in the VIP Lounge for private jets, Ibizair, Ibiza Airport, Balearics, Spain.
2.5 metre 1/10 Limited Edition Hand-Signed Giclee` Print.
For a viewing, contact Ibizair Admin @ Ibiza Airport.
About this website and about Wayne Ashton
This is a high-speed fine art website displaying more than 200 Wayne Ashton artworks in six different series. Since 2004 the site has been connecting and interacting with art lovers who purchase their favourite artworks from this huge collection.
This fine art collection spans contemporary landscape, seascape, portraiture and urbanscape in museum-quality oil, ink and charcoal.
Successful Wayne Ashton gallery exhibitions have been held regularly for the past 30 years.
Purchased paintings are in collections around the world, most recently in Sydney, Melbourne, Perth, London, Berkshire, Chelmsford, Cardiff, Durham, Ibiza, Delhi, Singapore, Canada and Texas.
Museum-quality Hand Signed Limited Edition Prints are available for purchase here at the site, at ETSY.COM or in person at The Chilli Rooms Gallery in Sydney, Australia.
Valuable investor provenance is available in the sections of critics, exhibitions, media and a sustained campaign of 22 full-page advertisements in the premium glossy national magazine, Art Collector.
Trophy artworks suitable for luxury homes and foyers are located in the Pinski section of oil paintings. These are rare and exclusive artworks. Strikingly original and globally unique. Many have sold. They have gained powerful praise around the world from the most experienced and discerning collectors, critics and artists.
Major book and art launches are included here at the Wayne Ashton website.
Exhibitions of new artworks are held five times a year at The Chilli Rooms Gallery in Sydney. Collectors fly into Sydney for these events from around Australia and around the world. Submit your email for these events here. Please use your name as all non-name emails are automatically disregarded.
Book readings of published Wayne Ashton novels are held at national Writers Festivals in Perth, Melbourne and Byron Bay.
Dedicated art flights and art roadtrips for creating landscape artworks include excursions into the ocean-coastal environments of Western Australia (Shark Bay, Murchison, Rottnest, Broome, Derby, Cape Leeuwin), Queensland (The Whitsunday Islands), New South Wales (Palm Beach Pittwater, Jervis Bay, South Coast, Shoalhaven, Ulladulla), the Indian Ocean (Maldives), the Mediterranean (Greek islands of Moni, Egina, Hydra, Spetses) and Spain (south-west coast of Ibiza, Barcelona).
Comprehensive awards and critical praise are included in this website. Dr David Bromfield: "Wayne Ashton, author of the critically acclaimed novel Under a Tin-Grey Sari, is a superb painter. As that rare combination of a committed writer and a dedicated painter, he works full time from project to project." Read more.
All prices are designated in Australian dollars. Prices for smaller paintings range from $700 to $7,500. Prices for large and rare trophy paintings range from $15,000 to $65,000.
Important collectors of Wayne Ashton's art include business, banking, media, law, medicine, technology, architecture, engineering, hotels and hospitality, photography, design, environmental science, mining, transport, stockbroking, marine sciences, the arts world and artists, writers and poets.
All artworks are on museum-quality canvas, small to large, and museum-quality paper of 300 gsm to 600 gsm.
For purchase and viewing inquiries, contact Libby Douglas at Libbydouglas1@gmail.com.
modern and contemporary australian art online gallery oil paintings and drawings © 2007-2021 wayne ashton. all rights reserved.
/