Creating curries for 20 years, I've explored and discovered flavours that are both robust and subtle.

Good for summer, good for winter.

Below are nine ultra-special tips for a curry that melts in the mouth.

Fish and Red Masala
Fish and Red Masala
From chopping board to stove to table: 30 minutes
This is a dish for two kinds of Curry Connoisseur:
1. If you love cooking, here's a curry that will rock the socks. Your guests will croon.
2. If you're a practising artist and love cooking, you can make Performance Art with this dish because it goes from stove to dining table in half an hour, quick enough to share memorable drinks, laughter and conversation as the feast gets made - a performance of chromatics, aromatics, visuals and pleasure.

Recipe for six
Slice one onion
Slice three spring onions
Pound/mash in a mortar-pestle six cloves fresh garlic
Pound same amount fresh ginger
Slice three chillies
Chop fine, four stalks fresh coriander
Slice up half a red capsicum
Chop into rough and uneven pieces, one small aubergine (eggplant)
Chop one tomato
Chop three fillets of fish into 3cm pieces. Flathead is the best here for texture and for flavour. Chop fourth fillet into thin shreds.
Half a cup of fresh curry leaves
Special Tip
Make a paste. Into a mug of 50ml water add:
3 teaspoons garam masala
2 teaspoons cummin
1 teaspoon coriander
3 teaspoons paprika
6 cardamon pods
Mix with a spoon to form a paste
Special Tip
A big tip is the flame. You'll see how the heat varies in this cooking process:
High heat. Shock-start the process. Fry in olive oil the onions and spring onions until brown, then add the garlic and ginger. Fry well until the garlic begins to turn brown. This is crucial because unbrowned garlic will give the final dish a greasy, raw garlic tinge, not good for this dish.
Lower heat to medium high. Now add the masala paste, fry into the onion, garlic and ginger mix, folding and frying for two minutes with a flat edged wooden spatula so that you can get at the base.
Special Tip
Let some areas of the base burn slightly and then shift, let more burn slightly, then shift. This is crucial as the masala paste has to fry: raw masalas are a common error, creating a curry without much in the way of depth of flavour. Frying a masala paste to perfection is a whole technique on its own. Practise it if you wish. Fold, shift, rest - fold, shift, rest.
Lower heat to medium. Add the tomato and capsicum. This will give you the moisture to move the slightly burnt bits back into a fine-looking paste.
Special Tip
Add the thin shredded slices of fish, keep frying and folding. Two to three minutes.
Add the eggplant, stir and add salt, half a teaspoon. Let the mixture baste a couple of minutes and add half a cup of water. When this has evaporated add another half and continue small adds of water. Avoid adding water all at once.
Special Tip
You want to baste the mixture, not to boil the mixture.
Lower heat to simmer. Add chillies. Simmer for three to five minutes until the smaller chopped pieces of eggplant have started to dissolve into the curry, and the bigger chopped pieces are still intact but soft.
Special Tip
This is crucial. It will infuse just enough of the eggplant flavour to mix with the fish flavour, while later allowing the bigger eggplant pieces to share the curry's bulk with the bigger fish pieces.
Add the 3cm fish pieces, simmer for one minute, add a further sprinkle of salt and then stir gently, moving the fish from bottom to top. Simmer for two minutes.
Three Special Tips
Immediately remove pot from the heat. Add curry leaves and stir once. Cover the pot and let rest for five minutes before serving.
Lift the lid off the pot only once, at the table when serving. You and your guests will be amazed by the rich colours you've created and how the colours have separated into their shining hues.
Lifting the lid is not to be missed by anyone. It is the moment to savour and celebrate together.
This dish is seriously rustic and seriously 5 star, so serve with just four side dishes: pilau rice, fiery hot pickles, mild pickles and sliced cucumber and onion salad.

Cheers!
Wayne Ashton
March 2013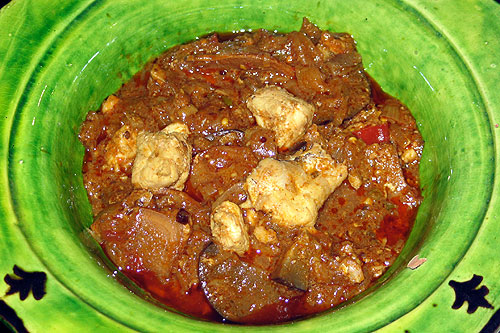 Yummmmmmmmmm