The Chilli Rooms TM

Australia's Hottest
Studio-Gallery

Click the chilli for pics of
the Funky Patrons
Hot art, global wings. This month, starting in Ibiza Spain, The Chilli Rooms embarks on a program of deluxe pop-up exhibitions by travelling to the world's hotspots of exciting contemporary art to showcase Pinski's Travelling Dive Troupe, a fresh new series that has already found eager collectors around Australia.
Below is our latest patron: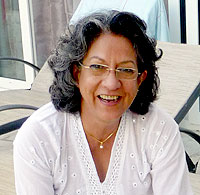 Nilofer Livas, Chilli Rooms patron

Click here for the Chilli Rooms Sydney, in Ibiza.
Click here for the latest on the Chilli Rooms Sydney, in Ibiza.
"The Chilli Rooms is one of the best art offerings in Australia today. Art collectors are the clear winners."
Katie Cripps
Avalon, Sydney
Click here for The Sydney Magazine Arts Issue March 2013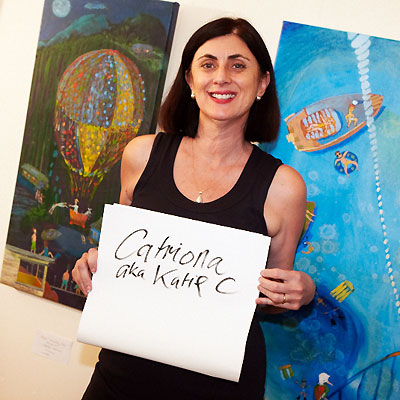 Katie Cripps, Chandler McLeod Lawyers and Chilli Rooms Patron

Thanks to a crack team of patrons, The Chilli Rooms Sydney rocks. Sports a bright entrepreneurial flair to guarantee that You Deserve a Great Experience on your visit.
In today's fast-renewing world of art The Chilli Rooms has become a key entity loved by movers and shakers, creatives and collectors.
"Visit the Source."
Fiona Inverarity
Truman Hoyle Lawyers and Chilli Rooms Patron
Many places enjoy exhibiting art - hotels, galleries, restaurants, museums.
One place glows as the origin, a studio-gallery. As the source, the studio naturally catapults to the forefront of showcasing art.
For the collector, a well-run studio-gallery is a hot prospect. To engage with good provenance begun at the source. To see great art. To enjoy a Moet and good company.
A studio-gallery is as authentic as it gets. In any country the studio is the HQ of art, and all good studio-galleries are loved like a teddy bear. As all serious art critics acknowledge, the best art is exhibited, comparable to anywhere.
Taken by The Chilli Rooms parties, New Yorker Les Margulis: "A remarkable 21st century salon, heck of a lot of fun meeting great people."
"The most vibrant studio in Australia today, parties and viewings are the best."
Mark Hubbard
Finance Director UXC Limited and Chilli Rooms Patron
Launched with fanfare by one of Australia's finest actors William Zappa as a special space for fun evenings in a fabulous art studio atmosphere.

Moet flows along with fine whites and reds. Leg hams are juicy and caramel-coloured. The aroma of lashings of truffle mustard fills the air.

Near Sydney University, it hosts guest speakers from the wider world beyond the visual arts: corporate, business, media, environment, science, film, education and design.

Anchored by an art show, a Christmas party or a patron's birthday party, the Chilli Rooms evenings are always light and bright.

The Chilli Rooms has now been located in the current building for eight years, moving successfully into the larger space three years ago. The initiative of painter Wayne Ashton, it is the sixth in a long line of productive studios over 22 years that have together distilled into The Chilli Rooms.
"Wayne's depth of experience with studios has absolutely landed beautifully in this space. Touches of panache make it hum, like the complimentary limo service. And the truffle mustard at the parties. And the fine wines."
Deborah Cooper
Artist
Getting there is quick: over Sydney Harbour on Anzac Bridge and 5 minutes along historic Johnston Street. The building is on a sunlit, breezy ridge.

Have a look at Pinski's Travelling Dive Troupe and its Australian network in 2013.
Have a look at our launch brochure for the School Holiday Series #4 - Pinski's Travelling Dive Troupe. This exhibition was at The Chilli Rooms in Stanmore, Sydney, on September 16, 2011, and at the Gadfly Gallery in Dalkeith, Perth, on November 17, 2011.
Have a look at our launch brochure for the School Series #3 in February 2011.
Have a look at our launch brochure for the School Holiday Series #2 on November 27, 2010.
Alternatively, have a look at who was seen at the launch parties for School Holiday Series #2 and #3.
Have a look at our brochure for Birdsong Hunting & School Holidays presented by Jane Ulman in September 2010.
Have a look at the brochure for our launch event in February 2010, a neat little show of nine artists.
Have a look at the brochure for our May 2010 event ... a hoot and a hit. Harley Lacy, with a team of scientists, regenerates the landscape when the miners are done.